Marketing in the Uncanny Valley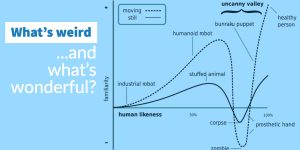 A few years ago the Canadian Association of Optometrists ran a campaign called, "Open Your Eyes". The campaign included a commercial that garnered a fair bit of commentary. It featured a woman who rises out of bed and begins to make her way through her morning routine with her family. The thing that makes the commercial a point of discussion is that she has her eyes closed throughout, but her lids are painted with eyes in a striking light brown. The result is an uneasy appearance. As the commercial unrolls the camera pans to show the viewer things from her perspective. As she encounters her family and neighbours we, the viewer, are surprised to see that no one reacts. She and they wave and interact as though everything is normal. The commercial is arresting, but it also makes the viewer a touch uneasy, in a word, the commercial is uncanny.
Little Baby's Ice Cream took uncanny into the realm of creepy. They ran an ad that featured a somewhat androgynous ice-cream being, who stares piercingly out at the viewer as she slowly and methodically eats herself. Starting at the top of her head she scoops away more and more of herself while her stare becomes increasingly vacant.
Although we know that these images are contrived, intended to get our attention, they are still disturbing. Uncanny is like scary but operates almost on a subconscious level. It can sit close to normal without being at all normal. That proximity between normal and creepy can be so disturbing that it can create cognitive dissonance. So why would someone marketing a product ever want to cause the consumer mental stress?
Simple really, if the advertising works just right, they are disturbing, but utterly memorable and believe it or not, appealing. Little Baby's managed to garner national attention and their sales followed in a steady upward projection long after the initial commercial was aired. The commercial has received well over seven million hits on YouTube and the "YouTubers React to Little Baby" has received over eight million views. The success of Little Baby's was so profound that they created more commercials, all uncanny, and even a documentary on the making of the commercials.
What these short and disturbing offerings are is a brief titillation. They get our attention, make us giggle, get grossed out or better still, they make us talk. They are startling and disturbing, but ultimately safe. This type of advertising does not require the endurance needed for a horror movie and they do not induce the physical reaction or risk of extreme sports, but they do give the viewer a jolt. They are the flip side of humorous advertising that lulls and amuses while it embeds itself into our minds. Both can be effective or foolhardy.  It is not an easy line to walk, but if you can hit it home, the results can be spectacular. This last video comes as a suggestion from a friend and it hits all the right uncanny buttons.
Whether promoting a book, movie, service or product, when have you seen uncanny work it's magic?  Have you ever thought of doing something a little off-putting to bring attention to a product or service? What do you think of uncanny advertising?
Image by Masahiro Mori and Karl MacDorman
---