The Tool For Making The Perfect Elevator Pitch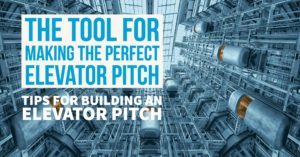 I've been looking for an automated pitch generator ever since Harvard removed their automatic pitch maker. I've finally found one at Buzzuka. OK, it's not perfect, you actually need a human being and some passion for that, but what it does nicely is put you into the right frame of mind and get you to a starting point. Pitcherific also provides a useful framework to get you started on (and practising) your pitch.
Both of these tools help with the structure of a pitch but they won't make the pitch for you.  You still need to do some homework.
Know Your Audience: There is little value in creating a pitch that delivers perfectly what you want but has no resonance with your audience. You're not pitching yourself. You're also not going to want to deliver the same message regardless of who you're speaking to.
Be brief and clear: It seems like an obvious statement, but being succinct does not mean become cryptic. You need to be brief and clear. Your great-aunt Petunia and your eight-year-old nephew should be able to understand it.
Answer Essential Questions:  If the response to your pitch is, huh? You haven't been clear enough. Make sure that your audience knows exactly what you want from them and that you answer that age-old question, "What's in it for me?"
No Pick-Up Lines: If you use a line like, "Heaven must be missing an investor angel because you're here with me right now." Not only will you come off as cheesy, but also cliched. Get their attention, but do it with grace. Go left if they expect you to go right.  Use humour, gently.
When I talk about my experience, people typically assume that I learned about government relations during my years on Parliament Hill. I always respond the same way. "GR on parliament hill? No, I didn't learn anything about government relations while I was there, I learned all about public relations because that's who our audience was."
My answer is unexpected, so it becomes memorable.  It's not rocket science, it just shows a little-unexpected logic.
Renew It: Don't take your pitch for granted. Always consider new ways of delivering it.  Refine and refresh it over time.
One size does not fit all: if you have different target audiences, then you should have different pitches. Context should also change the nature of the pitch.  For example, there's the pitch to have a meeting that happens in an elevator and then there's the pitch to sell your idea that might happen while sitting next to someone on a plane.
Have you ever delivered a great pitch in a pinch? Have you ever been sold something because the pitch was too good to refuse? I'd love to hear your views.
Related Articles:
---