5 Great Programs That Add Pop To Presentations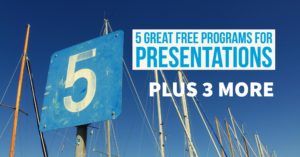 PowerPoint is a great presentation tool.  It's flexible, powerful and easy to use. It's also one of the most maligned presentation tools. Its biggest flaw, however, is its users. Some of the regular culprits are poorly constructed slides filled with tiny font. Complex graphs meant to confound instead of inform viewers and then there is the challenge of presenting information. This post isn't offering alternatives to PowerPoint because I think it's bad, I'm sharing tools that can shake things up and possibly improve presentations (some can even be used with PowerPoint).
Adobe Spark offers a great variety of easy to use options for social posting, blog images, ads and more. It's one of my favourite tools.
There are a number of templates and different layouts you can choose.
The templates allow you to choose the right size for your projects and you can start from scratch or with one of the choices from their gallery.
In addition to templates, Spark gives you access to free images from sites like Pexels and Pixabay from within the program.
It also allows you to make videos, an important feature when there is so much importance placed on video in order to be seen on social media.
The video option comes with the ability to upload your own images or your own video clips.
You can choose silence, a piece from their music selection or add a voice-over or both.
You can store your projects online and/or download them.
Projects download as jpegs or MP4s
On an "easy to use" rating scale, I would give Spark an 8 out of 10. The only reason the mark isn't higher is that even if you start from scratch there are limits on the customization options within the program (at least at the free level).
Take a look at the video below to get a better look.
One of the best parts of Canva is the ability to create great infographics.
Canva also allows you to create awesome social posts, presentations, ads, detailed reports that pop and much more.
It also allows you to create logos, though the template selection of options is limited.
With Canva you can import the images you want or choose from their selection. Some of the images are free, while others are a cheap (one dollar).
Unfortunately, it doesn't allow you to make videos.
If you have complex information to deliver, particularly if you are trying to illustrate the relationship of things, Prezi is a great choice.  It has many of the same attributes as PowerPoint, but its delivery style means that you have something that feels more like a movie.
Prezi also allows you to deliver messages in a nonlinear way.  Prezi is like telling a story on a huge canvas. You can zoom in to show details and easily illustrate complexity or you can zoom out so that your audience sees the big picture.
A word of warning though, the movements that make Prezi such a fun can actually make some people feel seasick. Getting nauseous during a presentation is definitely a con.
While Prezi has some beautiful design formats, they are much more limited than PowerPoint and while PowerPoint comes with a host of tools, using Prezi means that you have to import many of the graphs you're used to having automatically with PowerPoint.
On the upside, just as you can import your graph, you can also embed Prezi into PowerPoint, making for a great combined outcome.
Prezi is a web-based product available for free if you don't mind your presentation being made public. Otherwise, you can buy a desktop version that is more pricey than PowerPoint.
On an "easy to use" rating scale, I would give Prezi a 7 out of 10.  You can achieve a lot with Prezi, but the more specific the desired outcome the more challenging it can be to work with.
For a peek at how Prezi works, take a look below.
Visme allows you to build infographics, presentations, reports, and all kinds of graphics.
It comes with a great selection of templates or you can start from scratch.
Unlike some of the other tools, it comes with 100s of font choices and customizable icons.
You can use their images, paid and free or upload your own.
You can create interactive maps and include your own content.
You can edit, crop or use your own colour schemes and you can animate just about anything.
You can keep your files online, make them private or download them as an image, PDF or HTML5.
There are a number of colour palettes available on Visme, but unfortunately, you need to buy their premium package if you want to include your own brand colours.
On an "easy to use" rating scale, I would give Visme a 7 out of 10. The challenge with Visme is that with all of its flexibility also comes some complexity. If you are not used to graphics software it can get confusing.
Take a look at the explainer video below to get a better understanding of Visme's scope.
If you are looking for a way to bring it all together then you will like the next offering on the list, SlideDog.
SlideDog allows you to pull together all the best parts of the tools you like working with into one seamless presentation.
Essentially whether you want to showcase web pages, video clips, Prezi presentations or PDFs, you can pull them all together for one experience.
SlideDog allows you to retain all of the functionality of the original file.
The challenge, of course, is that you can't really create within SlideDog and if you want to make a change in the presentation then you have to go back to the original… that can get tiresome.
There are many other tools out there to be considered, such as Haiku Deck or Google Slides both are free, and they are very similar to PowerPoint, but not quite as good. Haiku Deck makes things pretty and can provide the user with various options for display, but has less functionality than PowerPoint. Google Slides allows you to collaborate on slide creation and being free is a big advantage but the desktop version isn't as awesome as PowerPoint and the template options for PowerPoint make it an easy choice.
Google Slides allows you to collaborate on slide creation and the fact that its free is a big advantage but the desktop version isn't as awesome as PowerPoint and the many template options available for PowerPoint make it an easy choice.
I haven't forgotten about KeyNote. Keynote makes beautiful presentations. If you have a MAC, the price is also right as it comes for free. One of the biggest challenges with Keynote is that it was built for Apple users and although you can now access it with a PC if you use iWork, it seems like a lot of effort to access a program that does very similar things to PowerPoint.  Keynote is also not as intuitive if you are used to PowerPoint.
Related Articles:
---