Organizational Vision – You Can't See Your Way Without It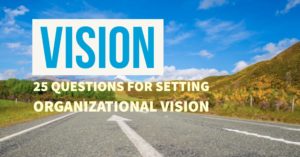 How can you ever get to where you want to be if you don't know where you're going?
I've known leaders who were absolute…well, visionaries.  Ones whose insight and perceptions were so far forward, it was as if they operated in a different time stream. They could inspire, charm and cajole people to do things that seemed impossible.  When the focus is right and the resources available, vision works a bit like magic. A strategic vision makes sure your organization is where it needs to be when it needs to be there. Unfortunately, all visions are not created equal and a poor vision or the absence of a vision can have a negative effect on you and your organization.
When Vision Goes Wrong 
Too Far Forward: When a vision is set too far forward connecting the dots between the long-term objectives and the day to day work of employees becomes challenging if not impossible. This type of vision operates in much the same way as a bad fit does.  It creates pressure on staff to meet objectives that cannot be achieved because they are either poorly prepared, under-resourced or do not understand what they are trying to achieve. In these instances, staff will often revert back to old behaviour or activities. This not only undermines the vision but can undermine the external relationships of the organization. For an association, this can mean that members turn to alternative resources to meet their immediate needs. For businesses, when a vision is too far forward customers may seek services elsewhere or hold back to see what early adopters think of the new products or services.
Out of Alignment: When the vision is out of alignment with an organization it means that the work of the organization does not synch up with the activities required to meet the vision. The result is multiple priorities will begin to compete for attention. Staff can feel conflicted or feel pressure from being under-resourced.  The consequence is that they become disengaged or demoralized. There can also be financial consequences as managers struggle to find the resources to meet immediate requirements while also trying to keep pace with the demands of the vision. In an association, it can create frustration with members as services they need disappear or become under-resourced in lieu of services they don't understand or are not prepared to use.
No Vision At All: Having no vision at all is also destructive to an organization.  When there is no clear vision in place employees tend to default to doing the same things they have always done.  This strangles innovation and can result in a slow erosion of organizational relevance. In an association, it can mean a growing gulf between the organization and its members. In a product or service business, it can result in a disconnect between customers and the company.  You can't have good customer service if you're disconnected from your customers evolving needs.
How to Develop A Vision
So while having a vision is critical to achieving your goals, not all visions are the right fit. To ensure that your vision aligns with your organization, start by
Start by reflecting on what you want and what you are trying to achieve. Imagine what your world would look like if things were exactly as you wanted if you had no limitations.   Ask questions. Start by identifying your big picture vision by asking big questions.
25 Organizational Vision Questions
What are your big long-term goals? What would be different if your vision became reality?
How do you plan on achieving your goals or how do you plan on being successful?
What do you need (capabilities and skills) to keep your competitive edge?
What time frame are you covering with your vision? Note that if you go too far into the future your vision is likely to fail.  Given the current pace of change in technology 10 years is a long time. If your vision is unresponsive to emerging ideas or demands, it will become more of a hindrance than a help.
What have you accomplished to date? What have your big wins been?
What innovations have you developed?
What problem or challenge are you trying to address?
Who benefits from your products or services? What is your target audience's demographics?
How easy is your solution to use?
How costly or time consuming is it compared to alternatives?
How do your stakeholders or community view your organization?
How do your customers or members view you?
How do your employees see you?
Could you improve internal collaboration? If it is working well, why is it?
If your members had to identify the three things they thought you did well, what would they be?
What do industry experts have to say about you?
How do your suppliers see you?
What do your employees look like? What are their demographics?
Who are your leaders? What style do they use to lead?
Have you been working with new or unexpected stakeholders? Why?
Are there services or activities you could offer but are not currently providing?
Are you regionally focused? Could you expand or should you narrow your focus?
What are your strengths?
What is your unique offering?
What would you achieve if you were more confident or less risk averse?
The more specific your questions, the more likely you are to come out with an effective vision.  For instance, you may want to influence people or make their lives better.  However, there are a number of ways you can do this that won't necessarily help your organization to succeed. Therefore, how you help them to make their lives better becomes an important question to help focus your vision.
Why Visions Work
So what does a vision do that makes it work? According to productivity expert, Ann Max, one of the basic things a vision does is give you a framework to operate in. It provides a focus and a path to follow. In essence, a vision gives you structure. In many respects, it also provides hope and optimism, a very powerful combination to get you and your employees motivated.
Acquiring a vision can seem like a slow process, but the thing that makes it doable is that it can start off simply. It can begin with questions you can easily answer and only when you have one level firmly pictured do you move on to the next set of questions and details.
Taking your questions externally allows you step outside of any internal biases, blind spots or misconceptions you may have about what you can do or how you are doing it. Talking to people you respect or who have similar challenges may also provide you with insight that will help you to set a better path.
The first time I did this visioning exercise was more than fifteen years ago.  I imagined myself working in a collegial environment, meeting lots of interesting people, doing intellectually challenging work and working for a cause that I cared about.  There were more details, but even the ones that seemed frivolous like the artwork in my office or the view out the window (and there has always been a window) have usually come to pass. I doubt I would have followed that first job opportunity if I hadn't firmly pictured where I wanted to land. This approach has worked when I've done it to resolve project barriers, staffing hurdles or personal challenges.
I would love to hear your feedback.  What do you do to get yourself focused and on target?  How do you know when the vision you choose is the right one?
Related Article:
---