Visual Meetings – How To Bring Meetings To Life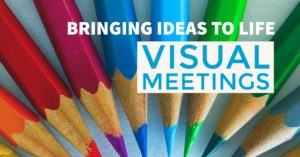 Several years ago I was at a conference on systems thinking (essentially, understanding how things connect) and during the plenary sessions I noticed that tucked away to one side was a woman busily working on capturing the meeting proceedings in images. I was mesmerized. As the session progressed I kept looking from her to the presenters and I was charmed by the images that emerged.  Her blend of colourful figures and words captured beautifully the vibrancy of the conversation in the room. The "Ah ha" moments were carefully displayed with a burst of yellow and orange marker that had a more lasting impression on me than any of the words I'd carefully jotted down in my notebook.
As the conference progressed I'd catch glimpses of the artist as she made her way through all of the plenary sessions and occasionally, the smaller concurrent sessions.  I approached her at one point and asked her how I could get copies of her illustrations. She asked me for my card and I happily handed it over. Although months passed I did not hear from her and I kicked myself for not asking her for her card. Then one day a package arrived. It was from the conference organizers and they were inviting me to attend the next year's conference. Amongst the conference details was a poster of all of the images from the last conference captured by the graphic artist. I was hooked. Although I had fond memories of the event, they had mostly faded, her images brought them all roaring back to life.
After that experience, I wondered how I could capture some of that vibrancy in my regular day to day meetings. As it happens, I got my answer several years later while attending the same conference. The presenter was a fellow named David Sibbet.  David talked about the power of images, he brought us back to those days long ago when we huddled around fires in caves and drew on walls, but he also brought us back to our childhood. Those wonderful colourful books that kept us engaged and made us want to read. Even today some of my favourite life lessons come in the form of blog posts from Susan Cooper, who uses her colourful illustrations to tell important life stories.
We have a very natural affinity for visuals. People love to see their ideas captured in an interesting and interactive way. This is why writing things out on boards is a standing practice of meeting facilitators. Big thoughts are also more likely to be developed because visualization allows you to see natural and unnatural links between ideas. Patterns become more visible and this gives the group an opportunity to get those big picture ideas that help create group momentum. Our memories benefits from using visuals too. By putting things up on a shared board the group can keep track and recall ideas more easily.
So why do we eliminate visuals from our regular meetings? Well the most common response is, "I can't draw".  David would argue other wise and as I know from attending many art classes over the years, everyone can draw; we just need to be taught how. That's precisely what David Sibbett does in his two books, Visual Teams and Visual Meetings.
Don't believe me?  Let's see what you can learn in just a few minutes.
Start with a simple circle. Thinking of mixing something in a bowl—maybe egg whites. Before putting the pencil to paper, try out the motion. Use your arm in the process; it will make a better circle. Got it? Great, you now have a circle.
Add a few brackets and you have a bouncy ball.
Throw some lines beside the circle and it's moving fast.
Add two dots and a smile and you have a head.
Point an arrow at your circle and you've made your point.
Place larger circles around it and you have a bull's-eye or a central idea.
Getting visual doesn't require rocket science or a degree in art. We are all natural drawers…stick figures can express ideas too. Introducing colour markers on a white board or giant note pad will easily do the trick of making meetings more engaging. Sticky notes are also a useful tool and can bring colour and shape to visual story telling. When doing a process mapping exercise one organization I worked with used sticky notes to represent each step in a process.  As participants added sticky notes, the visual image grew. The ensuing image of multiple sticky notes spread across a wall was a more powerful illustration of the need to cut steps than any conversation.
I have had great success with strategic planning by putting markers and sticky notes into the hands of colleagues. The challenge is not about the ability to draw, it's the willingness to try. Go ahead, let your inner artist out, you'll be surprised by what shows up.
Have you ever had to draw to make a point? Have you ever used the back of a napkin to illustrate what you meant?  Do you do better when visuals are used?
Related Articles:
http://commstorm.com/time-keeps-on-tricking/ 
---