10 tips for working with a graphic designer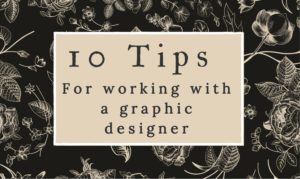 The TED video above provides some interesting and relevant insight into the strength and focus incorporating relevant graphic design can bring to your project. I encourage you to take a look.
Whether you're a small business owner or a communications guru it's often difficult to determine how to work with a graphic designer to produce the results you want.The following are some tips to help you navigate.
Graphic Designers of all Kinds: Like any profession, not all graphic designers work the same way or at the same calibre. Some have a particular brand or style that they sell while others may specialize in certain kinds of products like magazines or books. Other designers or their shops are more diverse and can offer a wide range of services.  Think about what you are trying to accomplish with your design and then look for the fit that works best for you. Sometimes local graphic design associations can lend you hand or at least you can see who the local award winners are.
Checking the Fit: Look at the graphic designer's website to see what they have done with other clients. Do they provide bios of their designers? Do they share their design philosophy? Do they have a blog that gives you insight into their professional approach or personality? What does their LinkedIn profile offer? All of these will help you to determine fit.
Meet Them: Arrange to speak with them and make sure that if you are working with a firm, you get to meet the designer you will work with. There is no point hitting it off with the owner, only to find that you will be working with their summer student.  Ask them about their project management style, how will they keep you informed of progress? How will they create a schedule?
Tell the designer what you want to achieve:  Once you've made your choice, clearly state your objectives. By discussing what you want to achieve with the project, you are more likely to have a product that delivers when it's completed. This doesn't mean being highly prescriptive about what the design should look like, after all, if you could design it yourself, then you wouldn't be hiring a graphic designer. Websites differ in size, look, feel and contents, so simply saying you would like a website isn't going to help. Explain what the site has to deliver, did you have a great product and want to make sure clients appreciate the value? It's really about giving the designer a clear understanding of what you want to communicate.
Be clear about your style and brand: Make sure that your initial planning meeting provides a clear understanding of your organization's brand and style. If the focus is an event, make sure the designer understands who attends the event and what they get from it.  If the objective is sales, make sure they know who the potential customers are. This is really about making sure that the audience for your product is clearly understood.
Ask for two to three initial concepts: Even with the best description in the world, how you imagine a design will look and what the designer is thinking can vary greatly.  By requesting three different concepts (not variations on a single theme and not a full mock up), not only are you charging the designer to use their imagination, but you are giving yourself an opportunity to see the project in a different way from how you might have imagined it. I have often found that the concept that came closest to what I was thinking at the start of a project is not the one that delivers the message best.  Stay open.
Timing Matters: At the onset of a project the time frame for final delivery should be clearly established.  It is then up to the designer to work backwards from that date and let you know if they can deliver what you need in that time.  Keep in mind that multiple changes in content and direction will affect timelines.
Make Sure You Do Your Part: The best graphic designer in the world will fail if the client is inconsistent or unclear about objectives.  Just as you wanted to meet the designer you would be working with, the designer needs to know who the buck will stop with for the project. Remember, if you have a revelation or change of heart half way through a project because your boss just figured out what you're doing, you have to let the designer know and expect that you will also have to pay for that change of heart. Their time is valuable and while they want to make you and your project shine, they can only do that by working with you. Don't be vague and distant and then surprised and angry if the project doesn't work the way you expected.
Pitfalls:  I'll know what I like when I see it.This sentence comes right before failure. Generally, if you say this, its because you don't really know what you like. Graphic designers are very talented, but they have not mastered the art of mind reading. Also consider that what you like may not be what your clients need.
Graphic designers design: They are not writers or editors, so make sure that the content you send them has been reviewed and edited.  Make sure that you do a final review of the product before it gets to the printer.
Do you have a favorite poster, book, brochure etc that captured your attention because of great design? Have you ever worked with a graphic designer?  Would you like to work with one?
If you like this article, checkout Are You Creating Misinformation?
---