Pitch Club
What is Pitch Club?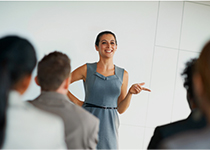 Do you have a great idea and wonder if anyone else will find it interesting? Do you have a great idea but not sure about how to pitch it?  Does your elevator speech need tweaking?  The Pitch Club let's you put your ideas to the test in  a supportive environment where you can get feedback on your idea or your pitch immediately.
What comes with a Pitch?
Guidelines for a great pitch.
Videotaping so you can see yourself in action. Are you delivering messages with your body that don't match what you're saying?
Feedback from a discerning audience with years of experience developing and delivering perfect pitches.
A chance to meet and mingle with some of Ottawa's brightest business people.
How it works
You've got the spotlight for three minutes.  In that time you are expected to deliver your pitch.  The audience will provide feedback on either the pitch itself or your idea – it's up you.
A reception follows each pitch session.
More Information
Looking for more information on the Pitch Club or getting private coaching on a pitch?  Give us a call or drop us a line.
For quick pitch tips, look here or check us out on YouTube, Twitter, Facebook or LinkedIn.
Pitch Club – Events
To sign up for events, find us on CommStorm's Pitch Club Meet-Up
Thursday, September 14th, 2017 – Tips, Trick s and Secrets of Great Presentations Meet-Up
Thursday, October 26th, 2017 – Pitch Night
Download the following attachments.